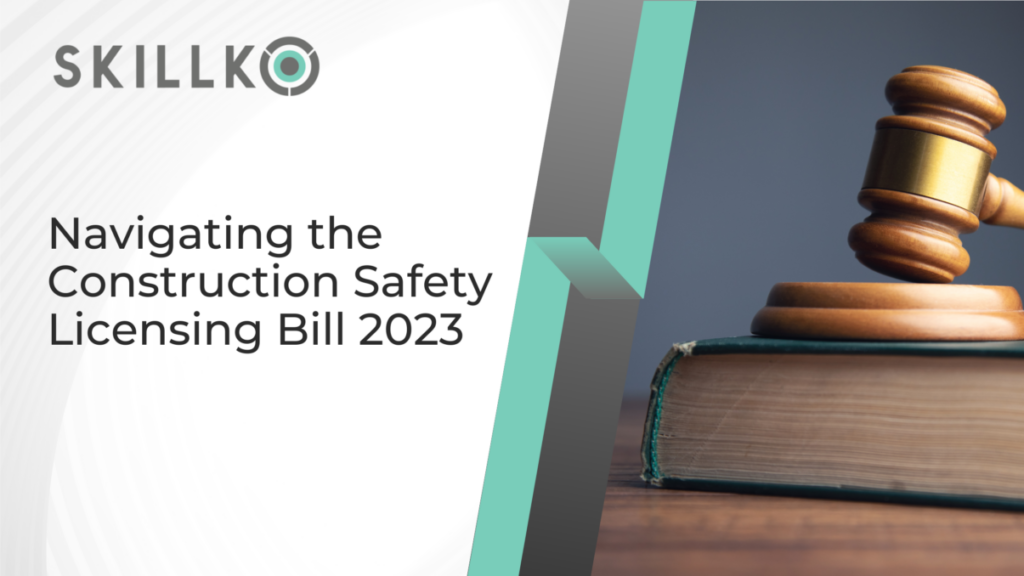 Introduction 
The Construction Safety Licensing Bill 2023,  published on the 24th of March, is set to reform and modernise the construction industry, embedding safety skills into worker development and making the industry more appealing to future workers. This critical legislation will revolutionise safety practices and establish a new licensing authority, replacing lifetime qualification certificates with renewable licenses.
The Construction Safety Licensing Bill 2023: A New Era of Safety and Skills Recognition
The Bill presents an opportunity for workers possessing relevant construction skills, even if they are not qualified apprentices or professionals. 
These individuals will now be able to obtain a license that recognises their skills specific to their site activities.
One of the most transformative elements of this legislation is the formation of a new licensing authority. This body will manage a register of licensees and act as the competent authority to recognise qualifications obtained from outside the state.
The licensing model replaces the traditional training model, where once a worker is certified, it's for life. Now, workers must hold a licence and periodically renew it to ensure their skills and training remain current.
The Impact of Skillko: Driving Compliance and Efficiency in the Face of Change
As the construction industry moves towards this new era, Skillko's platform is ideally placed to support organisations and their teams through the transition. Skillko has a proven track record in helping companies achieve significant efficiency gains and improve their compliance levels. 
Here are a few key metrics that underscore Skillko's impact:
100% compliance gain in direct and supply chain staff training: Through Skillko, companies have achieved full compliance in training their direct and supply chain staff, ensuring that all personnel are equipped with the necessary skills and knowledge for their roles.
68% savings and efficiency gains in onboarding and induction processes: Skillko's streamlined onboarding and induction processes have led to substantial efficiency gains, allowing companies to expedite these critical procedures without compromising on quality or comprehensiveness.
85% reduced administration time for HSEQ & operations teams: The administrative burden on HSEQ & operations teams has been significantly lightened with Skillko. Automated processes and simplified administration have contributed to an 85% reduction in the time spent on these tasks.
Skillko: Your Partner in Navigating the Construction Safety Licensing Bill 2023
Skillko is committed to helping organisations adapt to the new norms set by the Construction Safety Licensing Bill 2023. Our platform enables organisations to manage their training and certifications efficiently, keeping them up-to-date with changing regulations and safety requirements.
Skillko's user-friendly platform provides a simplified method for managing certifications, conducting inductions, and keeping track of relevant licences. 
This makes the process of licence renewal, a critical aspect of the new Bill, far more manageable and less time-consuming.
We ensure that safety and skills training aligns with the new legislation, offering an extensive range of courses to build the necessary competencies among your workforce.
Skillko: Shaping the Future of Construction Safety
As we navigate this significant shift in construction safety regulation, Skillko's platform offers the tools and support needed to meet these new demands. 
We are dedicated to providing a solution that not only ensures compliance but also significantly enhances efficiency and reduces administrative burdens. With Skillko, you can confidently face the future of construction safety.
Experience Skillko: Book a Demo Today
To get a first-hand experience of how Skillko can help your organisation navigate the Construction Safety Licensing Bill 2023 and achieve significant efficiency gains, we invite you to book a personalised demo with our team. Discover how our platform can transform your organisation's approach to safety and compliance in the new era of construction safety.